Laytime-Desk: Considerations for Outsourcing Laytime Calculations
By Nigel Harkness, GM Laytime-Desk. First published on blog.marcura.com/laytime-desk 
Why could outsourcing of your laytime management benefit you? 
The process of reviewing the facts of a voyage after its completion, calculating the laytime in accordance with complex charter party terms, as well as obtaining a settlement, keeps commercial staff from more important day-to-day matters and could potentially cost you money. Yet understandably, concerns such as security and data protection, or simply reluctance to outsource processes due to uncertainty, keep many organisations from reaping the benefits of having a third party take care of their laytime calculations.
The outsourcing of this service to a trusted partner is becoming a priority to many in the industry. The ups and downs of the shipping industry often mean priorities change from day to day, and operators have to balance these priorities.
At Laytime-Desk, the management of the laytime process is our focus and only priority.
Benefits of outsourcing the laytime process Claims to Laytime-Desk:
Flexible and scalable, with transparent, pay-as-you-go-options;
Tight control of time bars to avoid delays or missed payments due to contractual provisions and applicable statutes of limitations;
Culture of strict confidentiality to safeguard your data;
Decision-making power remains with you;
Process improvement that frees up your staff to focus on their more strategic roles;
Speedy conversion of demurrage claims to cash for improved cash-flow;
Professional handling, collection, processing and storage of paperwork;
Structured documents and processes to allow your operators to settle disputes earlier and your accountants to check/produce invoices in a timely manner;
Optimized staffing affording you flexibility to adapt to changing commercial demands; and
Reduced fixed back-office costs, releasing capital for investment elsewhere.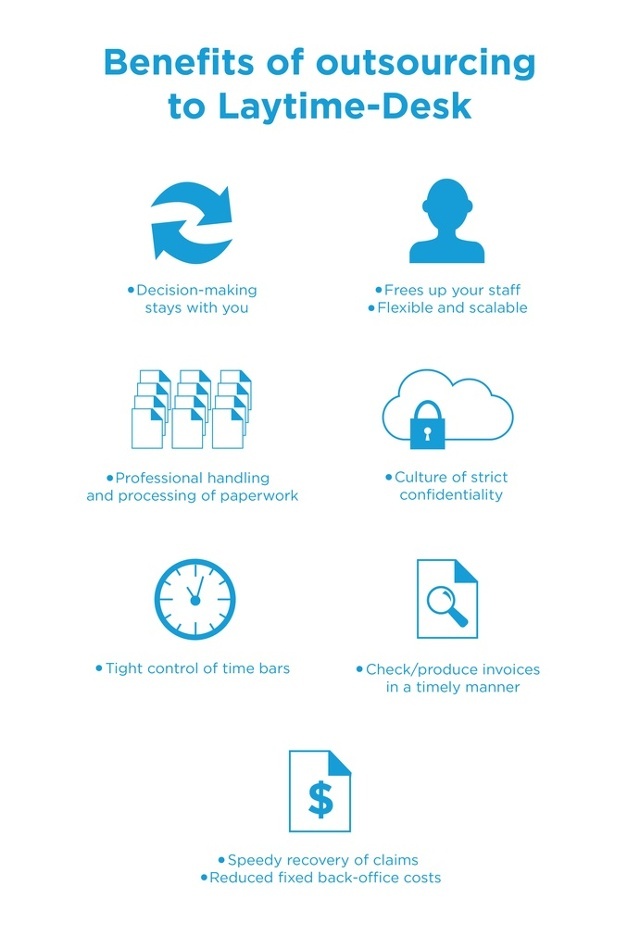 Finding and retaining the right professionals and keeping the knowledge in-house is an important challenge. Laytime-Desk has created a learning loop intended to retain and enhance your operators' and charterers' knowledge, and provide you access to customer-specific instructions and historical transactions. The additional time your highly skilled team gets by removing some of their administrative burdens will increase their productivity, while relevant data analytics will make them better-informed. Also, new staff joining will have a ready-made laytime training program based on historical negotiations and counters.
With a confidential and secure system for handling the laytime process, Laytime-Desk has become the leading provider of outsourced laytime management services. An increasing number of shipping companies are opting out of burdening their in-house staff with tedious calculations and processes by taking advantage of our technology-enabled service for a smooth, simple and timely process.
Nigel Harkness, GM Laytime-Desk