Marcura is the team behind leading solutions that have streamlined many processes in the maritime industry
If your team is one of those shown above, we can help you.
Because we're an established, successful and energetic company, we're able to help on your journey – from automation and digitisation through to digital transformation.
Our 1000-strong team is here to serve yours.
We're based where you are – we're a global company, serving our global maritime customers.
You are the source of our energy: our solutions development is driven by our interactions and discovery with our customers.
Our core value is customer first.
If you'd like to discuss your digital transformation challenges, please get in touch.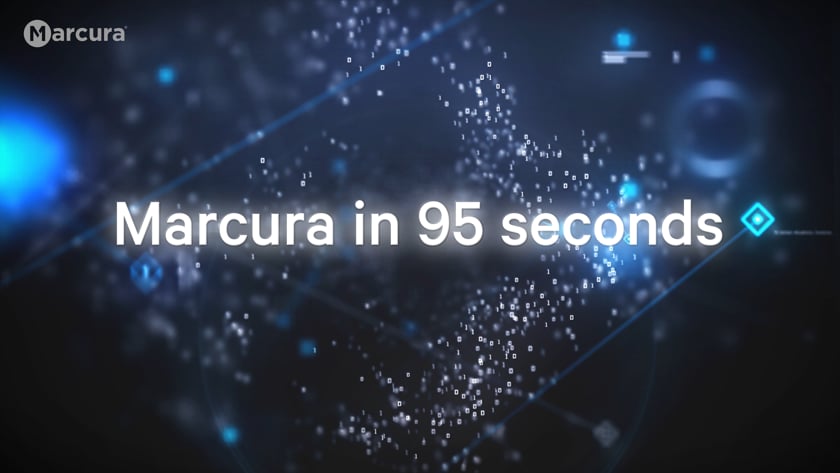 Our mission:
Enabling our maritime customers to streamline their processes
90% of all world trade is handled by the global shipping industry, delivering critical energy, food and raw materials to 7 billion people.
This huge responsibility rests on a few hundred thousand frontline professionals. However, these professionals are being burdened by unnecessary friction and pain in what should be straightforward transactions.
In shipping, transaction and processing costs are still too high.
Maritime professionals are caught up in too much processing, robbing them of time they could be spending on high value-add activities. 
It is easy to see why the industry needs solutions so that front-line professionals can utilise their skills and knowledge, leaving them at the top of their game, at all times.
This is why we're committed to streamlining the processes in the shipping industry.
Marcura facts and figures
Helping the frontline of maritime
Before entertaining a new idea or initiating a project, we always ensure that we have considered 4 critical questions that each represent a core value of the Group.
Since 2001, these questions have been met and answered with solutions, business units and companies that are founded on principles of:
compliance
independence
transparency
efficiency
and, as a result, gain the trust of many of the world's largest vessel operating companies.
22 years of innovation and solutions development
Marcura and customer first
Since the launch of DA-Desk in 2001, The Marcura Group has continuously introduced services in response to customer requests or market opportunities we identified as important for our strategy.
With our businesses, we aim to fill the trust gap in the industry by embedding our services into the industry's actual transactions. This, we do by checking and clearing information, money and counterparties and therefore eliminating the unnecessary friction and frustration in what should be straightforward transactions.
Helping with the big issues in maritime
Jens discusses how our solutions can help with some of the big macro issues faced by maritime industry such as decarbonisation, master data, compliance and sanctions.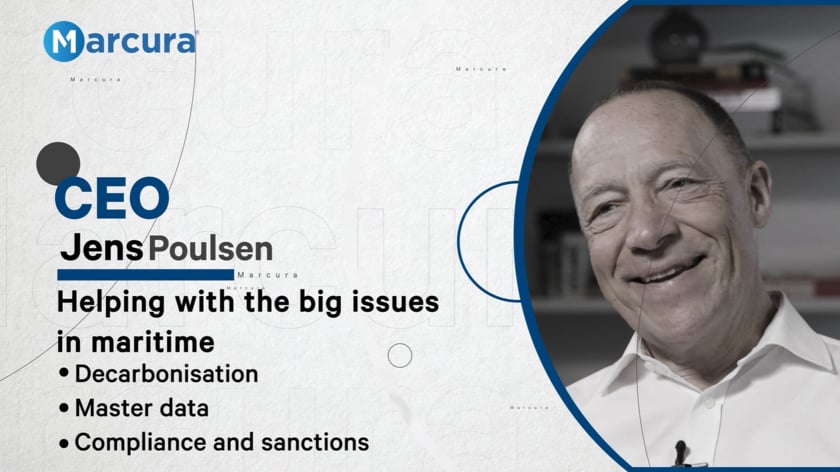 Our values
Marcura's values, described.
Jens explains our customer-first ethos, how we've achieved it and why trust is so important to us.
Marcura: a local company
At Marcura, we have a broad global network. At the same time keeping local relationships with customers where they are and where they operate is vital.
Jens shares his views on why it's important for us to stay close to our customers and how we do it.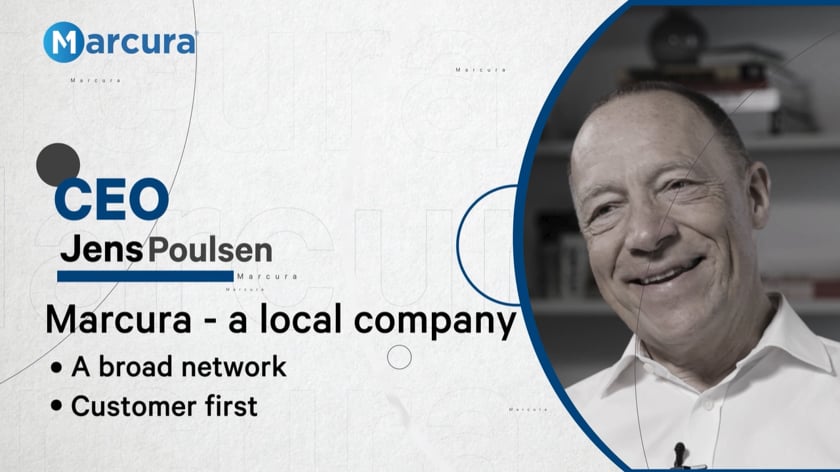 Marcura at 21
As we mark Marcura's 21st birthday, our Group CEO, Jens Poulsen looks back on the last 21 years and reflects on his journey with co-founder Christian Haunso.
Jens discusses the Marcura culture and values, what he is most proud of, the importance of customer first and the big maritime issues in 2022 including compliance.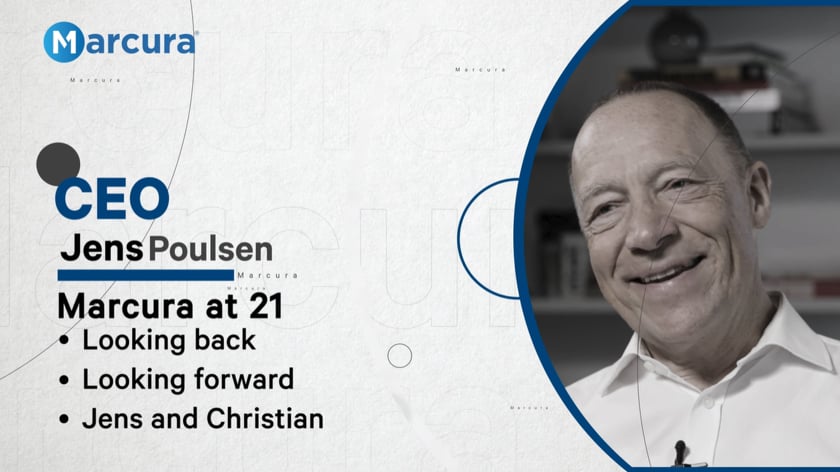 What's the best part of your job?
David asked the key question: what's it like to work at Marcura?
Here's a compilation of the answers he got from some of the leadership team here.
Marcura's 25 global network locations
1000+ maritime specialists
We're 1000+ team members globally and have offices in Dubai, Mumbai, London, Denmark, Japan, Germany, Greece, Singapore and the United States.
And we're growing fast: so far in 2022 we have hired over 80 new team members around the world.
The Group solutions use the Marcura Shared Services teams which are provided by the parent company. By centralising the strategic and administrative support functions, we ensure our businesses are focused on making their business offerings operate smoothly and efficiently.
Sharing best practices across the business units also allow us to minimise wasted effort and maximise productivity.
BUSINESS DESIGN SERVICES

In line with Design Thinking principles, our Innovation Team generates user-driven solutions to complex problems through a process characterized by intensive research, feedback loops and quick iterations.

M2 SOFTWARE DEVELOPMENT

The experienced software development team embraces agile software development methods and delivers multiple services while retaining flexibility to deliver rapid prototyping using cutting-edge technologies.

SALES & MARKETING

Sales & Marketing ensure we promote and deliver the right solutions to the right customers.

IT INFRASTRUCTURE

The team ensures the integrity and quality of IT deliverables, smooth systems operations, proactive maintenance, consistent systems availability, and, most importantly, unwavering IT security.
BUSINESS STRATEGY & COMMERCIALISATION

Our solutions are guided by industry veterans, entrepreneurs and an advisory board with the expertise and network to guide business ideas from incubation, through launch and full-blown operational growth.

MASTER DATA MANAGEMENT

A dedicated and experienced data team that includes certified process specialists functions within a focused and independent internal business unit.

FINANCE, ACCOUNTING & HR

The team supports a broad range of strategic projects and tactical initiatives related to the Group's overall mission, including forecasting, budgeting, accounting/auditing, capital allocation, financial planning and analysis.

LEGAL & COMPLIANCE

Maintaining an organisational culture committed to compliance and high ethical standards.

The team also exercises oversight of the ISO 9001 and ISAE 3402 Type II audits (DA-Desk) and provides advice on internal controls, risk management, contracts, corporate structures and the handling of other important legal matters.
Streamlining the processes of the maritime industry
For 20 years, we have invested in businesses with unique expertise, innovative systems, efficient processes and skilled industry specialists. Businesses that have the potential to develop industry standards and innovate with efficiency, intelligence and value-adding services.
Each business founded on principles of independence and transparency with the aim to become a preferred specialist partner to the front-line people of the industry.
Committed to limiting our environmental impact…
…not only within the Group but also with our customers and stakeholders.
We do this by adopting the United Nations Global Compact (UNGC) principles, of which we've been a signatory for 10 years.
We strive to help our customers make better and more sustainable decisions, and with PortLog we are working to tackle pollution by reducing wait times at port, and cutting down fuel consumption and the resulting emissions.
How we do it
Guided by our principles, we identify common transactions in the shipping industry with fragmented or non-existing standards, and where those transactions may cause high friction or carry unnecessary costs for parties involved.
We work with our customers through efficient processing of such non-standardised transactions, and aim to learn enough to propose an impartial, scalable solution that has the potential to become an industry standard.