Over 1000+ team members from 43 nationalities are working to deliver great solutions and services to our customers.
Most of our team are from the maritime industry: they fully understand what it's like to be on the front line.
Group Board
The Group Board provides leadership, governance and strategic direction across all business areas of the Group and its portfolios. With decades of accumulated industry knowledge, they are experienced professionals who all share a deep commitment to our maritime customers.
Christian is the founder and Chairman of Marcura.
Christian's focus is on Group innovation and strategy.
Previously, Christian worked in the Structured Commodity Finance Division at ING Barings in Amsterdam and Moscow, with the focus on the metals and shipping industries.
Prior to that he worked at a shipbroking and trading house in Hamburg where his duties covered operations, chartering and grain trading.
Earlier he worked in the shipping liner trade for Überseeschiffahrtsagentur Transnautic in Hamburg.
Christian holds a Master in Shipping, Trade and Finance from Cass Business School.
Jens is co-founder of Marcura and Group CEO.
His focus is on the market, business models and service strategies of the portfolio companies.
Previously, Jens was a Senior Partner at Cultivator A/S, then one of Scandinavia's leading Management Consultancies, where he provided management counsel to Engineering, Software and Pharmaceutical companies.
Earlier, he was involved in the initial launch of Cisco Systems, Inc. in all Scandinavian countries.
Prior to that he was Financial Director at UNIRAS A/S, a pioneering scientific visualization software company with global customers. He has held a position as VP Finance for the Treasury of Hafnia, a major Scandinavian insurance group. He started his career with Andersen Consulting, now Accenture.
Karsten is involved in a broad range of strategic and tactical issues related to the Group's overall mission and practices, including the support to the portfolio companies.
These include forecasting, accounting, financial planning and analysis, regulatory compliance monitoring, and the identification of income-enhancing and revenue-generating opportunities.
Karsten's 20 years of international financial experience includes five years as a CFO, as well as work for leading IT companies such as CSC and Dell.
Hans-Christian is the Group Chief Commercial Officer and Non-Executive Chairman of DA-Desk.
As Group CCO, Hans-Christian's primary focus is on commercial strategy and value creation for Customers, Agents and Partners that engage with Marcura's solutions in the payments, procurement and voyage administration sectors.
He has held a number of positions previously: Managing Director for DA-Desk, Managing Director for Maersk Line in Russia, Finland and the Baltic States as well as European Sales & Marketing Director for P&O Nedlloyd.
HC was educated in the A.P. Moeller/Maersk Denmark Management Trainee Program and holds an Advanced Certificate for Executives from MIT Sloan School of Management.
Felix provides advice and counsel to the Group's boards and business units with regard to legal matters, material transactions, risk management, compliance and overall strategy and corporate governance.
Felix has worked and consulted with various international companies and has operated a financial services agency in California representing industry-leading institutions.
He is a member of the State Bar of California, the American Bar Association, and the Institute of Directors (UK). He has served in the ABA Advisory Panel and is also a Charter Member of TechGC.
He holds a Bachelor's Degree from Ateneo de Manila University, a Certificate in Finance (With Distinction) from UC Berkeley Extension, and a Juris Doctorate from John F. Kennedy University School of Law.
Felix also attended the University of Cambridge Judge Business School's Advanced Leadership Programme.
Jan-Olivier's primary responsibilities at Marlin include deal qualification, conducting due diligence, transaction execution and portfolio monitoring.
Prior to joining Marlin, he worked at 3i Group where he focused on private equity investments across a broad range of sectors and geographies.
Prior to this, he worked as an investment banker at Jefferies where he specialised in mergers and acquisitions and public market transactions.
Before his career in finance, Jan-Olivier held software development positions at diagnostics company Roche and telecoms provider Ascom. He earned an M.Sc. in Finance and Economics from the London School of Economics and an M.Sc. in Communication Systems from the Swiss Institute of Technology (EPFL).
Stuart is the Chief Executive Officer of MarTrust, joining the business in 2023.
Stuart is based in London and brings a wealth of fintech expertise from his previous roles.
Previously, Stuart was instrumental in building and scaling Wise Business through to its successful public listing in London.
Stuart holds a BSc in Accounting and Finance, Economics from The University of Bristol.
Dionysis is the CEO of DA-Desk and is responsible for developing and maintaining relationships with customers, whilst ensuring customers obtain optimal value from the DA-Desk service offering.
Dionysis joined DA-Desk in 2017 as Commercial Finance Manager and later became Director of PortPayables where his role was to manage and enhance DA-Desk's payment processing solutions.
Prior to working with DA-Desk, Dionysis worked for more than ten years with Eletson Corporation in Piraeus, where he held the position of Treasury and Corporate Finance Manager. He was responsible for the banking relationships, treasury functions, and investor relationship management during this time.
Dionysis holds a bachelor's degree in Accounting and Finance from Athens University of Economics , and has a Master in Finance from Henley Business School at Reading University. He is a Scholar at the Alexander S. Onassis Public Benefit Foundation.
Bruno joined Marcura Group in 2011 and brings over 20 years of experience in the technology, logistics and maritime sectors.
His roles included Software Engineer, Principal Consultant, Chief Technology Officer. He has led projects for customers like: BP, Cargill, PTC, VW and Mercedes.
Bruno has a PhD in Computer Science in Power Engineering, focusing on optimisation algorithms.
Henrik Hyldahn is the CEO of ShipServ, the world's leading e-procurement platform for ship owners/managers, shipyards, and more than 73,000 marine industry suppliers.
With more than 20 years of experience leading from the front to drive financial and personal growth from tech.
Henrik has become best known for his innovative approach to solving complex industry challenges by developing simple, secure, sustainable solutions.
He has a strong track record of building and leading multicultural teams to ensure scalable value delivery through efficient use of technology and unleashing employee potential through mentorship while ensuring a wider purpose and growth plan for the entire team.
Bettina joined Marcura in 2014, leading our HR team and spearheading our remote-first strategy, Remote Excellence.
With over 30 years of experience in driving organisational transformation, she has successfully executed transformation strategies for companies across the globe of all sizes including start-ups from the telecoms, IT, tech and maritime industries.
Bettina has an Executive MBA from Cass Business School, is a mentor at the Cherie Blair Foundation for Women, supporting female entrepreneurs, and is passionate about growth and innovation.
Sreenath joined the Group in 2012 and is responsible for overall financial planning and analysis, banking relationship, treasury & cash management, budgeting & forecasting, and Group financial reporting.
He collaborates with board, business units and shared service functions to provide business support for maximising efficiency, growth and to drive best practices in financial management across the Group.
Prior to Marcura, Sreenath worked as an analyst at Goldman Sachs and as a deputy control manager at Elbit Plaza before which he has worked in accounting and consulting roles various organisations.
Sreenath graduated with first rank in Bachelor of Commerce from MG university, India and holds an MBA in finance and marketing from Institute of Business Management and Research, Bangalore, India. He has also completed his Executive Programme in Data Science and Business Analytics from Indian Institute of Management (IIM-C), India.
Sigrid joined Marcura Singapore in 2020, where she is responsible for the service and support to regional customers, covering a range of Marcura's services and platforms.
Prior to joining Marcura, Sigrid worked as an independent consultant focusing on process improvements in the shipping industry, and has previously held several management positions with a major dry bulk operator.
Sigrid holds an MSc in Economics and Business Administration from the Norwegian School of Economics (NHH).
She has lived and worked in Singapore since 2009.
Errikos started his career in finance, working for firms in six distinct industries: financial services, industrial automation, fashion, credit cards, insurance brokerage, and maritime.
He gained experience from the diversity and soon realized that all industries face the same issues. His core belief is that finance should up its game, provide strong business support, a streamlined process, and lead decision-making analytics.
He joined DA-Desk in 2013 with a desire to apply his understanding to the maritime industry. He soon moved into a role where his prime focus has been to use his experience to assist customers. He is currently managing the sales team, solution development, and marketing effort for MarTrust, the financial institution arm of the Marcura group.
Previously, Errikos held a position as CFO at First Data Greece and MEA, International Financial Reporting Director at Willis Towers Watson, and Manager of the Front Desk Operations at Levis.
Errikos is a Chartered Financial Analyst (CFA) and holds an MBA and a Master in European Economics; he has a continuous interest in learning new things and dedicates his spare time to this.
Domenico Carlucci is a Director of MarTrust. He joined DA-Desk in 2011 and developed MarTrust a few years later as a spin-off of the DA-Desk's payment services.
Previously, Domenico worked as CFO and Back-Office Director for Luxottica Far East, based in Japan.
Prior to that, he worked in Levi's Strauss's Global Treasury, situated in Belgium, and he was responsible for the Market Operations. He has also worked with Edison as a Risk Manager and SIA Spa as a Project Manager.
Domenico holds a PhD in physics from Scuola Normale Superiore in Italy, followed by two post-doctoral fellowships in Japan and Belgium.
Kim joined Marcura in 2016, where he set up the Marcura Nordics entity in Copenhagen.
Since then, he has been focused on resolving the industry-wide challenge of time in port, and today holds the responsibility of Director of Digital Transformation.
He is also managing the Group analytics service, with his favourite tag line being "What's the business story?"
Prior to Marcura, he has for three decades held management position in companies like Maersk and IBM – and been running a consulting company focused on IT improvements in the maritime environment.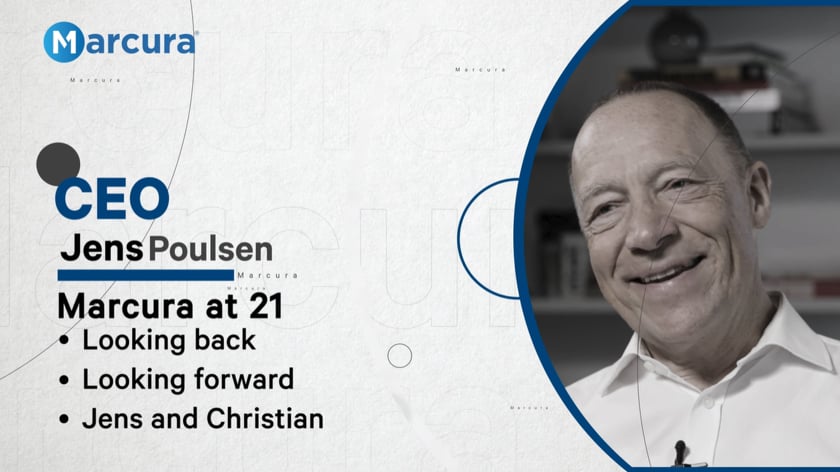 2022 marks Marcura's 21st birthday.  Group CEO Jens looks back on the last 21 years and reflects on his journey with co-founder Christian Haunso.
Jens discusses the Marcura culture and values, what he is most proud of, the importance of customer first and the importance of compliance in maritime.
David asked the key question: what's it like to work at Marcura?
Here's a compilation of the answers he got from some of the leadership team here.
Celebrating team anniversaries at Marcura
At Marcura, we're passionate about finding and retaining the best talent to help deliver our solutions to our customers.
In doing so, we're proud to provide long fulfilling careers to many of our people over the years, some of whom have been with us since our very early days.
See the gallery of our amazing people who have reached their incredible milestones with us.