Our vacancies | Working at Marcura
Marcura is led by the two visionary entrepreneurs** who founded the company 22 years ago
Their original mission, which we fully uphold today, is to streamline digital processes in the globally vital shipping industry.
We do this by putting our customers first.
As an established, successful, diverse and energetic company, we have developed a series of transformative solutions/brands specifically for the maritime industry which kill analogue drag via digitalisation.
Global and growing
Our 800+ customers are based in 53 countries
Our 1000-strong team of Marcurians is based in 45 countries
We're actively developing new solutions and new solution features, and we are targeting continued and significant growth in 2022
**You'll find Christian's and Jens's profiles here.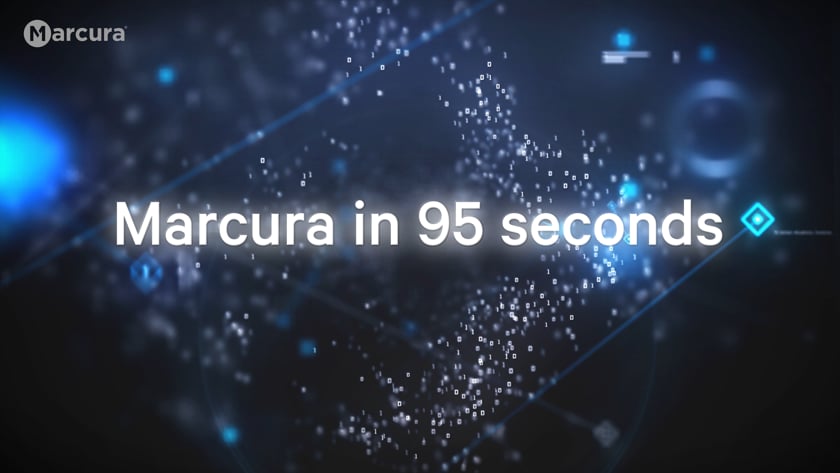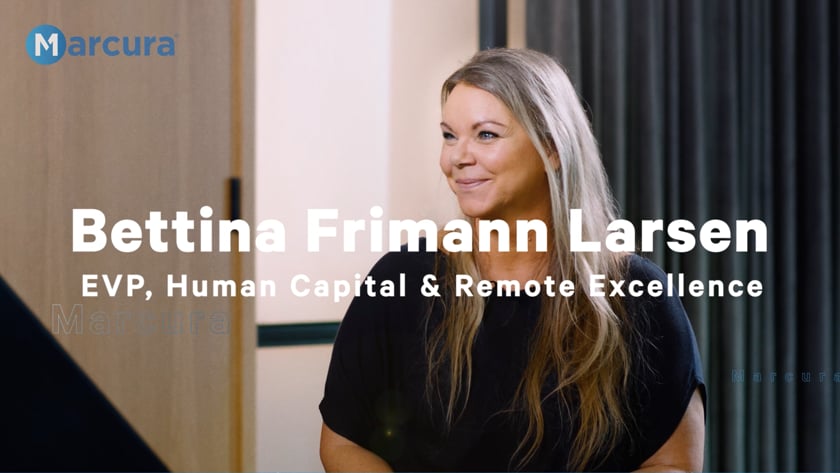 Marcura at 21
As we mark Marcura's 21st birthday, our Group CEO, Jens Poulsen looks back on the last 21 years and reflects on his journey with co-founder Christian Haunso.
Jens discusses the Marcura culture and values, what he is most proud of, the importance of customer first and the big maritime issues in 2022 including compliance.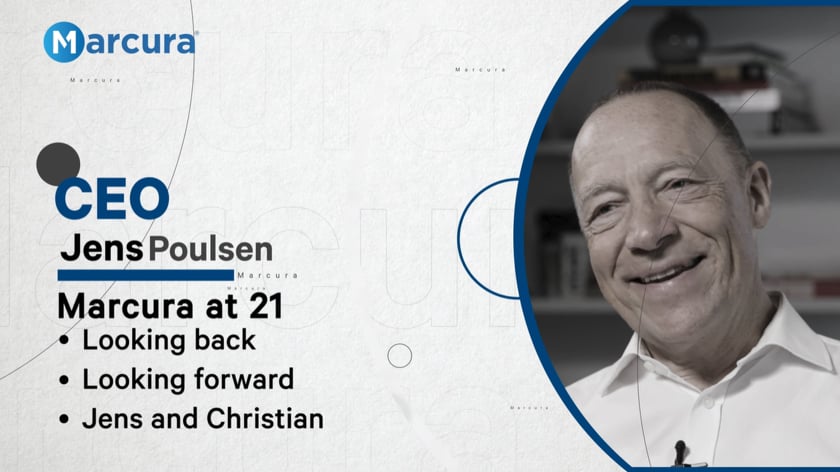 You and Us
So far, we've done a pretty good job: significant growth and market-leading solutions.
But we're even more ambitious now than ever. With big future growth plans we have vacancies for new teammates with big talents and expertise.
In short: We've got big plans.
That's where you come in.
To be passionate about our customers, we need to be passionate about hiring (and keeping) the best talent.
IS THIS YOU?: If you are talented and passionate about digital transformation, tech, platforms, SaaS, customer service, building and selling great solutions, we'd be super pleased if you got in touch.
Remote excellence – work from home
Two years ago, we transitioned to a fully remote working setup for all our team members around the world.
Working from home:
Allows our team members to have the flexibility of working from home (knowing they are fully supported by their colleagues, managers, and service teams, like IT and HR)
Means that Marcura and our group companies can recruit globally, wherever the candidate calls home
We call our working from home practice 'remote excellence' because our ambition is to be the best possible remote organisation
The best part of the job
David asked the key question: what's it like to work at Marcura?
Here's a compilation of the answers he got from some of the leadership team here.
Marcura – diversity and inclusion
We're 100% committed to preserving our culture of inclusion and diversity.
We're all different. This makes us stronger as a company and helps to ensure we serve our diverse customers in the best possible way.
We're committed to hiring the best people for the jobs we have. And then making sure they're happy and can prosper.
We've made good progress on gender diversity, a particular issue in the shipping industry.
We welcome applications from people with disabilities, who may appreciate the flexibility of our remote excellence policy (work from home).
So, if you see a job you think fits your skills and experience, we'd love to hear from you.
Our teams and talent around the world
Jens explains how having a global but localised team has enabled us to stay close to our customers through our remote excellence (RX) initiative.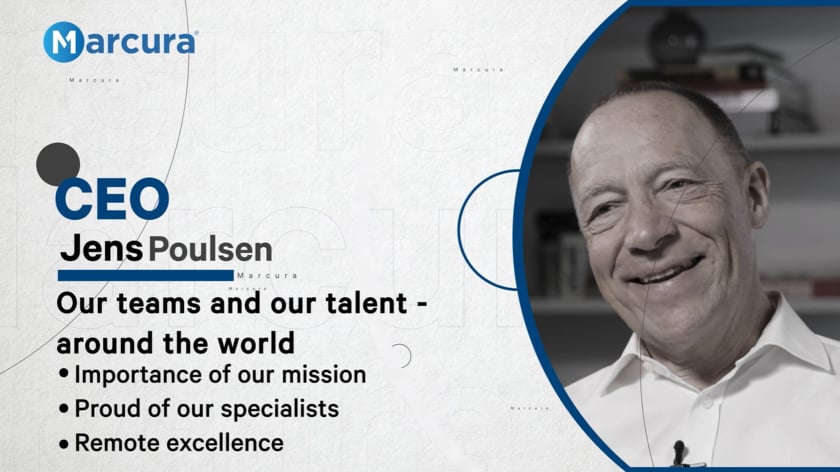 Marcura: a local company
At Marcura, we have a broad global network. At the same time keeping local relationships with customers where they are and where they operate is vital.
Jens shares his views on why it's important for us to stay close to our customers and how we do it.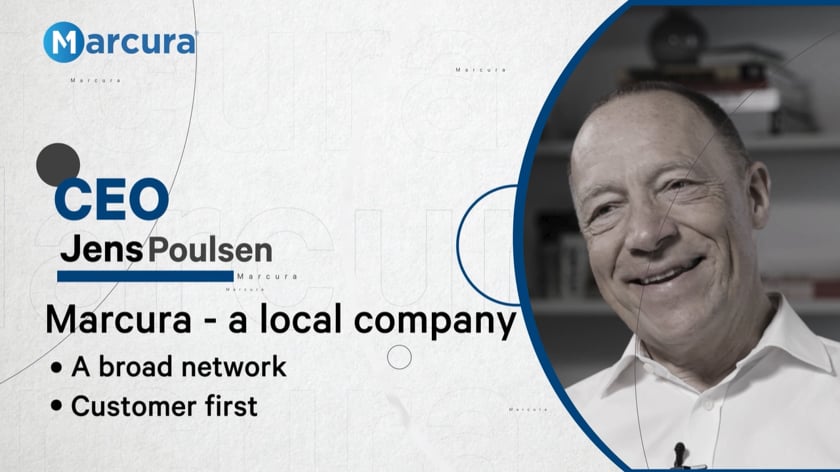 Marcura and the bigger picture
We've already described how, like many global tech platforms, we continue to develop solutions that drive big increases in productivity and enhance the working lives of people in maritime.
We do this by automating (i.e. removing) many repetitive, tedious, manual tasks.
Our solutions have other positive impacts of which we are very proud.
Here are just two examples:
MarTrust is increasing seafarer welfare
There are over a million seafarers in the world, doing a sometimes-dangerous job, far away from their family.
The process of paying them and then enabling them to send funds home is fraught with many complications and risks.
The MarTrust e-wallet comprehensively solves these problems leading to increased seafarer welfare.
It's one less thing for them to worry about when they're away from home.
And, to them (and us), that's really important.
PortLog and the environment
Our PortLog platform allows ship operators to reduce waiting time and time in port and optimise the entire port call process.
This helps our customers with their wider sustainability strategy – increasing their vessels' operational efficiencies thereby reducing fuel consumption and associated emissions.
Our values
Marcura's values, described.
CEO Jens explains our customer-first ethos, how we've achieved it and why trust is so important to us.
"A key part of my role is help ensure the Group operates in accordance with global best practices."
Leanne Maw
Associate General Counsel
"One of the most important aspects of my job is to ensure that we keep our customers' needs first."
Takashi Ikeda
Account Manager
"My background in cost control and process efficiency helps our customers achieve their goals."
Emma Wilson
Account Manager
"Helping customers in operations management and process improvement."
Balaji Nadar
Account Manager
Marcura (22 years young) and constant solution development
Some of the team (girl power!) at the 2021 opening of the new Dubai office
Providing long fulfilling careers at Marcura
At Marcura, we're passionate about finding and retaining the best talent to help deliver our solutions to our customers.
In doing so, we're proud to provide long fulfilling careers to many of our people over the years, some of whom have been with us since our very early days.
See the gallery of our amazing people who have reached their incredible milestones with us.
Marcura secures growth investment
We are excited to be partnering with Marlin Equity Partners to further invest in our existing platforms and services and accelerate our solution expansion.
Marlin is a global investment firm that specialises in investing in international software- and platform focused companies.